Correctional Industries' (CI) work training program is modeled after the real world. Employability and technical skills are developed and applied daily in prison. CI leverages its business strengths as a workforce development program for incarcerated individuals, and has forged a strong relationship with the DOC's Education Program which contracts with the State Board for Community and Technical Colleges. Each facility has a community college program on site. Vocational classes and education support CI and develop employability skills. Completing particular classes puts participants in a good position to transition to industry jobs, such as:
Accounting Clerk
CNC Machine Operator
Files Clerk
Machine Repair
ProCad Drafter
Shipping and Receiving
Clerk
AutoCad Drafter
Computer Operator
Invoicing Clerk
Maintenance Worker
Purchasing Clerk
Welder
Carpenter
Custodian
Inventory Clerk
Painting/Powder Coating
Sewing Machine Operator
---
Class 2 Jobs
Class II industries are businesses owned and operated by the state that provide job training and work experience to individuals who are incarcerated. Each class II job is categorized according to its occupational definition using the Federal Standard Occupational Classification (SOC) system. Information in this system is useful to CI's Workforce Development staff and to releasing jobseekers who are working on their resumes or are searching for industry specific education and training requirements.
To further refine these classifications, similar job duties are combined to form major, minor, and broad categories of related fields or "Career Clusters." Additionally, each SOC code is identified as one of five "Job Zones." These zones give a reasonable expectation to the amount of pay, training, education and or related experience needed for entry into a particular field.
Recognizing Achievement
After 1,500 hours in one job classification, incarcerated workers who have demonstrated a high level of proficiency in their field of work may be nominated by their supervisor for a Certificate of Proficiency. Based on established SOC criteria, these certificates are issued in recognition of a worker's hard work and dedication and can be used as part of their work expereince portfolio. Additionally, incarcerated individuals trained through CI's TRAC Program or by working with various organizations can also earn specialized industry accredited certificates in areas such as forklift operation, flagging, and laundry management.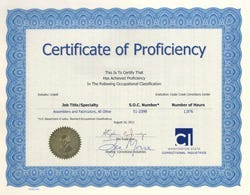 TRAC Program
CI offers a competitive 16-week pre-apprenticeship program in the building trades at the Washington Corrections Center for Women (WCCW), and at Mission Creek Corrections Center for Women (MCCCW). This Trades Related Apprenticeship Coaching (TRAC) program provides students with hands-on training specific to construction craft laborers, plasterers, cement masons, carpenters, and ironworkers – allowing students the ability to earn certificates of accreditation that grant preferred entry into union apprenticeships. TRAC students also work closely with a CI community employment specialist to build their portfolio, document work hours, create a resume, and generate referrals to our sound community partners.
Ultimately, the TRAC program is a preview of what a living wage career looks like in the community. It not only teaches incarcerated women job skills, but also life skills, reliability, the importance of hard work, and how to add value to the workplace. Solidarity Films by Chuck Bolland produced a TRAC Video that document graduates as they reenter the community and pursue union apprenticeships.