---
CI Brings New Level of Custom Design and Adaptability to Ensure Housing Project's Sucess
Custom designs and flexible options have long been a hallmark of Correctional Industries' services, but when the University of Washington needed a last-minute source of furniture for two newly constructed residence halls, CI crews took things to a whole new level of adaptability.
The University turned to CI after a previous vendor was unable to complete their contract. The project required a tight production schedule to meet the University's student occupancy deadline. Overall, CI manufactured and installed over 7,000 pieces of furniture for more than 1,000 rooms.
---
Project Details
---
Over 1,000 dorm rooms to be furnished.
Over 7,000 pieces were manufactured, including the following components:
Bed platform w/two sets of bed rails
Adjustable desk
Mobile pedestal file
All custom pieces produced by CI had to match existing pieces in other dorms.
CI built items from scratch, starting with raw steel, not ready-made components.
When The Solution is No Longer Perfect
The University had sought long and hard to find a furniture design that would meet the needs of their housing plan: steel construction that lasts longer than wood, easy assembly and disassembly without tools so students can use their own furniture instead, a small footprint when disassembled so students can keep unwanted pieces in their rooms and avoid the usual checking in and out of furniture, and modern design that could remain in style for years to come.
The University's Facility Interior Designer, Jean Lee, found a design that met most of the requirements. She worked with a vendor to meet the remaining requirements and successfully completed the first two buildings under the University's 10-year, $800-million student housing plan. Unfortunately, as construction wrapped on Alder and Elm halls, the University found themselves in need of a new furniture vendor.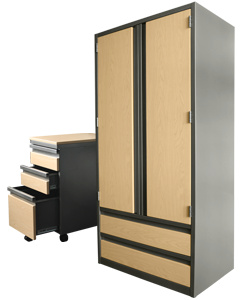 The CI Advantage: Commitment to Service and Convience
CI had been working with Lee and the University of Washington for years when the Alder and Elm furniture issues arose. Utilizing CI's reupholstery, refinishing and refurbishing services proved economical and practical for the University as CI's facilities could handle the volume. But previous projects did not compare in size to filling two high-rise residence halls with furniture. "The size of previous projects with CI pales in comparison to the work we're doing with them now," said Lee.
Familiar with CI's facilities, capabilities, and state-of-the-art equipment, Lee didn't hesitate to bring CI's proposal before the housing committee. CI not only presented a more affordable alternative to using the previous supplier, in-house designers and members of the Correctional Industries' research and development team were able to improve upon the original designs to create sturdier and more ergonomic items that would last longer and better meet students' needs. "We were able to come in and provide a better product for less money," recalled CI Director Lyle Morse.
Working with a local manufacturer like CI — less than 90 minutes away — also offered several advantages to the University, Lee said. Designers, account executives, and project managers were able to meet with Lee and the committee if the need arose and worked closely with everyone involved at the University. "What makes the difference is the customer service at the end," Lee said.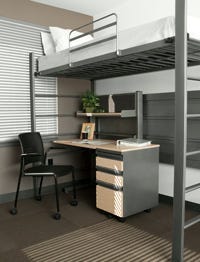 CI successfully maintained the essence of the previous furniture's designs while making several significant improvements by introducing adjustable desktops, rounding table corners, adding more durable casters and a stronger framework for mobile pedestals, and assembly mechanisms that enable rails to attach to bed decks more securely.
---
Improving On Perfect
Lee said the new furniture from CI needed to match the previous design from the other firm so pieces could be interchanged and so existing pieces wouldn't become obsolete and outdated. Additionally, CI needed to improve upon the original design and correct features that tended to wear or become less stable after a couple years of use by students. CI's research and development team worked closely with Lee and other committee members at the University to identify the weak points of the previous design and implement workable solutions. "We had the benefit of seeing the pieces in use and being able to identify the fail points in the original design," said Morse.
---
Redefining "Flexibility"
The University of Washington project also provided a unique challenge for CI in that the primarily-steel designs were unlinke anything in CI's existing furniture lines. This required CI's research and development team to not only design the furniture, but also design the manufacturing process from beginning to end. Meanwhile, production crews re-configured their processes to meet the demands of the new designs, from laser cutting steel and furniture components to powder coating and finishing the final products.
There were also serious time constraints with which to contend. Receiving the final product order in February, CI had only six months to design, manufacture, finish and install the final products before students filled the residence halls in August. CI's diligence and focus got designs finished and approved in March and production launched in mid-April. "We really had to juice the front end of that project," Morse said. "We had no way to know what the process time was going to be."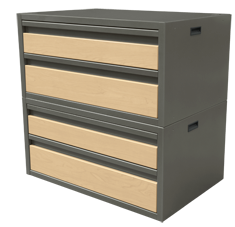 To meet the schedule, CI's manufacturing facilities needed more workers so production could run continuously through more shifts. Of course, additional shifts meant a need for more custody officers to oversee the workers. CI's management staff worked closely with prison staff to make the change happen. "It takes everybody to make it happen," said Morse. In the end, components for both Elm and Alder halls were completed and ready for installation as soon as construction on the dorms was complete. All the residence hall rooms opened on time for the arrival of students.
---
Offenders On Campus
When it came time to install the more-than 7,000 pieces of furniture on the University campus, CI's work crews drew considerable attention — "in student housing no less," as the University's student newspaper reported. Despite what might seem to be a significant security issue, Lee, who had extensive experience working with CI, said she never had any concern about using CI's installation crews for this project. Nor did any issues arise, she said. Instead, the men selected for off-campus work have demonstrated an ability to act professionally while learning job skills and earning income that reduces the cost of their incarceration. "We had many people come over and comment on the politeness of our crews," Morse said. "They were surprised at the level of professionalism and camaraderie displayed."
---
Giving Our All to Ensure Success
When The University of Washington's ability to open two new residence halls was in jeopardy, they turned to CI to ensure the project was completed on time. Backed by highly skilled designers, an innovative research and development team, and state-of-the-art machinery, CI is driven to ensure clients get products and services that meet their needs and their budget. Whether supplying custom-built furniture and signage, garments, food products or janitorial supplies, or providing fast, reliable printing services, CI helps state agencies and tax-supported organizations reduce costs and achieve their goals.